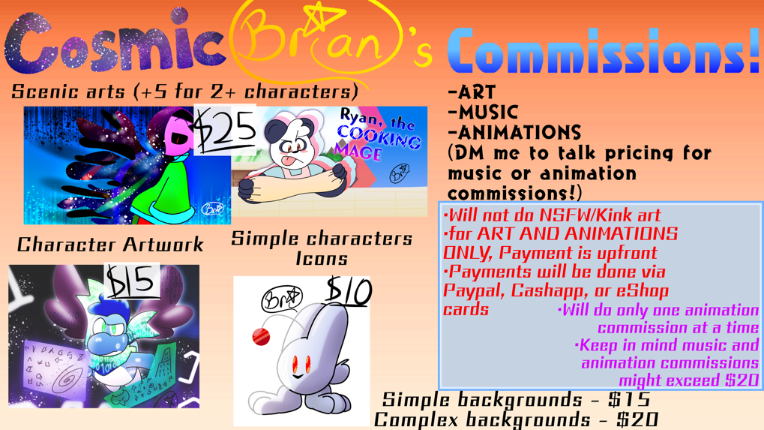 COMMISSIONS ARE NOW OPEN!!!! (Sorry I posted this a few days later than intended;;;) but feel free to HMU for any commission requests!!!!
PACKS
And do note—you can buy up to 5 artworks and 5 music pieces in a collective pack..! Just know it'll take quiiiitttee a bit to finish... No animation packs, however. That's just too much for me alone.
MUSIC PRICING
As for what to expect from music and animation prices, music can vary depending on genre, length, and any extra details this can range typically from $10 or $15 up to possibly $35 or $40–but hey, ya never know unless you ask!! Because of this, payment for music is not due until you've accepted a sample of what could be the finished product.
ANIMATION PRICING
Animations, however, can get pretty pricey pretty fast, since animation's so time consuming whilst I'm already working in college and working a side gig. I'll try my hardest nonetheless..!!
either way, commissions are open to all!!!
and just as a random plug, if you'd like to be an artist or animator for a future passion project if mine, hmu as well..!
⛱COSMICOAST: SEASIDE HANGOUT 🌴
If you wanna join my Discord hangout server to share art, music, and meet new people, the link can be found below..!!